Plus d'accélération, de stabilité latérale, de thrust, un comfort sans égal, mais aussi choisir sa configuration en fonction de son poste : Voici quelques-uns des avantages du crampon Profiler.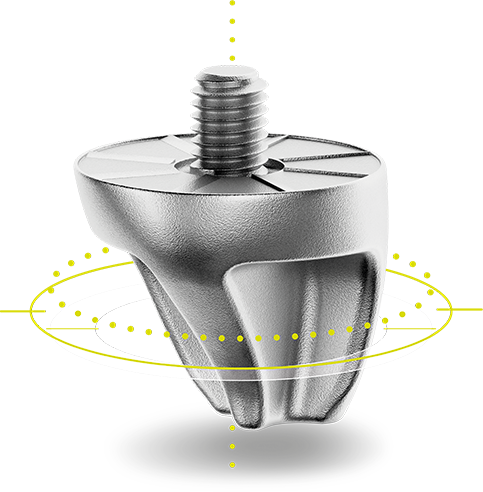 Se fixant sur la plupart des chaussures à crampons vissés, son système astucieux and simple d'orientation vous permettra de moduler votre configuration à volonté.
UNIVERS FOOTBALL
Do you hear the clamor of the stadium? Thanks to the crampon © Profiler, create your opportunities, surprise the defense and become a legend. Keep your lucidity, your shoes will do the rest!

You know your place in the field, your crampons too! The best players are those who do not miss an opportunity to win. Thanks to the Smart Power configurations your crampons take you to acceleration and lightness better sideways, or the technicality and the support accuracy foxes of the most formidable surfaces.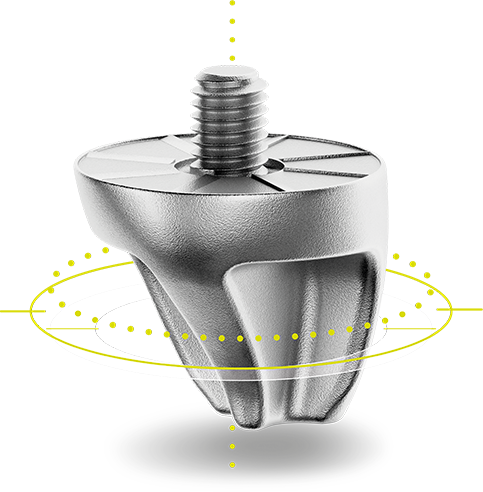 UNIVERSE RUGBY
Whether you are pillar, hooker or 3/4, SMARTPOWER starts the melee to propose configurations combining power and speed, to make you kings and queens of the oval.

Power, support, strength: the © Profiler has been designed to support the most daring tactics and accompany the outbreaks the most memorable. Whatever your position, it will allow your team to conquer the lawn, leaving no room for error. It's time to claim your victory!
5 to 8%
More thrust per player *
10%
Up to 10% reduction in muscle fatigue of the player *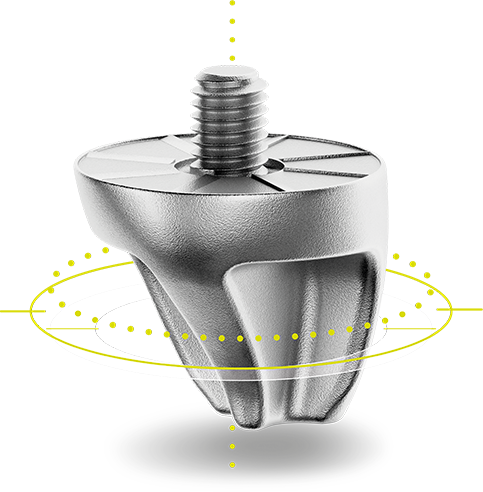 Suitable for any type of terrain
Specially adapted to dry, semi-wet, wet, natural or stabilized terrain thanks to its reduced contact surface, the Profiler crampon penetrates the ground in depth. Its contact area offset from the axis allows, depending on its orientation, to modify the desired function of the crampon: thrust, acceleration (stroke) or lateral and axial stability. Finally, its triangular shape allows a higher effective area (thrust) and increases your efficiency (power). Our advice is of course to test, during training or test sessions, the different configurations. Each player can have a different feeling. This equipment has passed the World Rugby tests and is in accordance with the rules of the game of football. Nevertheless, we advise you, because of the novelty, to present them on your initiative to the referee. If you want to use it in other sports, you will need to learn about the rules of approval.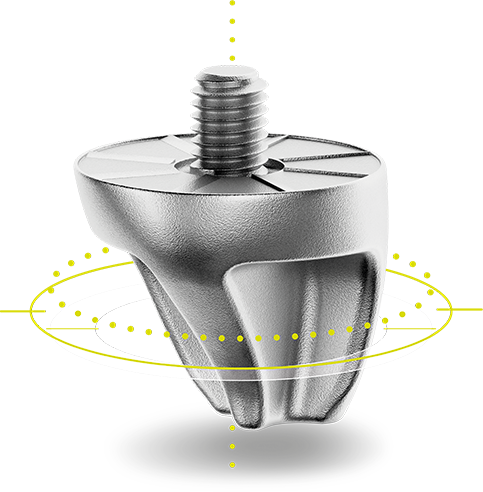 le profiler est conforme world rugby et approuvé fff
SMARTPOWER, marque innovante dans le domaine du sport lance un nouveau crampon (conforme World Rugby) : le Profiler. Développé grâce aux dernières technologies d'impression 3D, en collaboration avec des footballeurs et des rugbymans, ce crampon vous permet d'être plus performant, plus confortable et vous offre différentes configurations selon votre poste sur le terrain. Basé sur un crampon unique, vissé et en aluminium, et grâce à son système breveté de rondelle, nous vous offrons la possibilité d'orienter le crampon en fonction de votre sport, de votre poste sur le terrain et de vos préférences.